March 9, 2022 - STEP Journal +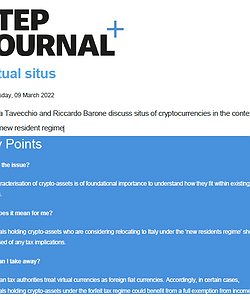 Virtual Situs
Andrea Tavecchio and Riccardo Barone discuss situs of cryptocurrencies in the context of Italy's new resident regime
The increasing interest in cryptocurrencies represents a topic of a very significant scope that has exploded over the past years. Indeed, provided that cryptocurrencies and crypto-assets are freely transferable and can be traded on certain markets in exchange for legal tender currencies, their use has been developed in almost all the countries of the world.
However, despite their increasing use, there is still a lot of uncertainty about their tax treatment in many jurisdictions, as there is no specific legislative provision.
Due to the lack of a specific legislation or provision governing the tax treatment of transactions involving cryptocurrencies, the Italian Revenue Agency (Agenzia delle Entrate, the Agency) began to question the legal nature attributed to cryptocurrencies and the related tax treatment.
The interpretation put forward by the Agency may represent an interesting opportunity for those individuals who intend to move their residency in Italy taking advantage of the so-called 'new residents regime'.